(Sri Guru)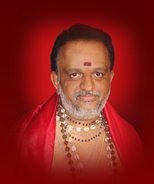 H.S.Thyagaraj
(Sri Amruthananda)
Founder of the Trayinyas Sri H.S. Thyagaraj was attracted from the early age towards spiritual activities especially worshipping of Jaganmatha (supreme mother). Even when Mr.Thyagaraj was busy with life leading activities he constantly developed interest towards jaganmatha.
This interest of him eventually led to exploration of information about jaganmatha. During this process he got contact with Sri Ashokananda Shankarabhatt Poojar, who was the Parampara Archaka of Badami Banshankari. And well known Sri Vidya upasaka. Sri Ashokananda on learning the vast interests of Thyagaraj towards Devi initiated him to Srividya by blessing him with Srividya Diksha along with Poornaabhishekam and Dikshanama Amruthananda.
Amruthananda (H S Thyagaraj) then started his Anushtana's according to his Guru Lineage and gained knowledge from his Guru as well as other upasakas. Continuing on this noble path smt Arathi & Sri Thyagaraj (Amruthananda) founded Trayinyas Srividya Peetam. The main intention of Trayinyas Peetam is spreading of the authentic information on "Srividya" which is regarded as the foremost Vidya explained by Indian Ancient scriptures like Veda & Upanishads.
In this way Sri Balananda (KamakotiShastrigal of Kanchipuram), Jairaman (Bombay), Prof.Sheshan (Bangalolre), Subbuswamy & Mrs BanuSubbuswamy (Daughter of Dr.Najan), Chandi Sudhakar (Chennai) and many more had Guided him.